In the many months that I was missing, I managed to finish up a whole tube of concealer! Though it didn't turn out to be one of my favorites, I thought that it would be beneficial to review it. Today's review is of MAC Select Moisturecover concealer, which I first heard about in a video by Tiffany D and then saw that it got a lot of rave reviews elsewhere. Here is my experience with the product!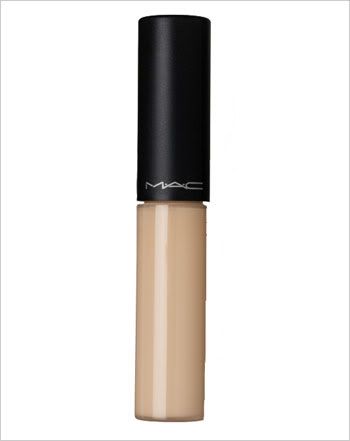 MAC Select Moisturecover Concealer
What it is:
It is described on the MAC website as as a blendable, moisturizing concealer with a doe-foot applicator.
My impression:
I heard a lot of good reviews on this concealer, and many people with dark under-eye circles said it worked well at minimizing their appearance. Well, the perfect under-eye concealer was what I aimed to find, so I thought I would give it a try. I did like the packaging (if only MAC Pro Longwear concealer came with this packaging!) and thought that it was pretty easy to get the product out for use. The concealer was thin in consistency, but in spite of that, it was able to cover and blend very well. I was very impressed with how well it was able to cover under-eye imperfections. However, what I didn't like about it was that even if I lessened the amount of product I used, it always ended up settling into the fine lines and creases under my eyes. By the end of the day, it also looked a little cakey--not so good for someone that is out of their apartment for the majority of the day!
My recommendation:
I did really like this concealer for its coverage and blendability. I didn't like it because of the way it settled and became cakey, but it might just be because my skin is on the oilier side. People with normal/dry skin might fare better with this than I did!
The rundown:
Product: 4/5
Packaging: 5/5
Quality: 5/5
Overall: 4.8/5
Would I buy this again?: After finding my preferred concealer, probably not, but it doesn't mean it's a bad product.
Where to buy: MAC
Price: $16.50
Pros:
+ Good coverage
+ Easy to blend
+ Packaging
Cons:
- Settled into fine lines and creases
- Looked cakey at the end of the day
Even though this turned out to not be the product for me, I hope you found my review helpful! If you have any questions or comments, please don't hesitate to let me know.
Disclaimer: I have not been paid to review the product featured above. I purchased all of the products reviewed in this blog post and did not receive them for free. I ensure that this is my true and honest opinion.