I'm sure it's not really a secret that I am a major nerd. I wear glasses, love Hello Kitty, enjoy video games, watch embarrassing movies and documentaries...I'm sure you all know the type. Well, I'm sure you can imagine my surprise when I ran into Shiro Cosmetics on Etsy. The catchphrase of this brand is "makeup and geekery" and with a multitude of hand-blended, vegan mineral shadows on sale with names like Jigglypuff and 1-Up, it certainly delivers.

I did a little bit of research, found some excellent reviews, and decided to take the plunge. I definitely was not disappointed. I received my package in a very timely fashion and my little pigment jars were placed into cute little decorative bags. I ended up ordering Mew, Acid, Meowth, Gengar, and Pikachu, but they were kind enough to include sample sizes of Squirtle and SS Anne. I did some swatches, and overall, I really liked them! I'll be sure to order from them again in the future.

Anyway, the reason I didn't really do an extensive review on these was because I got a new camera and I haven't really figured out how to use it that well yet. Hopefully I can get it all sorted out...hopefully before I go to Europe...and get back to posting a few more better-photographed swatches and looks! So without further interruption, here's what I created!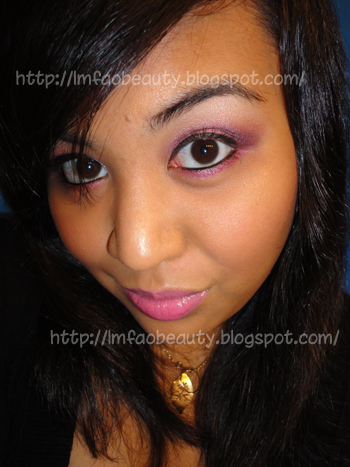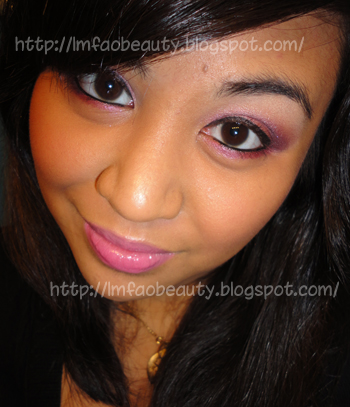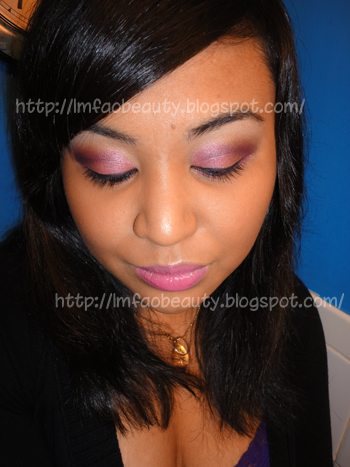 Face Products:
MAC Studio Fix foundation
MAC Pro Longwear concealer
MAC Mineral Skinfinish Natural in Medium Dark
NARS Laguna bronzer
NARS Albatross
NARS Deep Throat
Face Brushes
:
Sigma F80
MAC 150
MAC 168
MAC 109
Coastal Scents fluffy brush
Eyes:
Urban Decay Primer Potion
Shiro Cosmetics Mew pigment - lid
MAC All That Glitters eyeshadow - crease
MAC Plum Dressing eyeshadow - crease & lower lashline
MAC Shadowy Lady eyeshadow - crease
MAC Brule eyeshadow - browbone
MAC Shroom eyeshadow - middle of browbone
MAC Blacktrack Fluidline - upper lashline
Stila Kajal eyeliner in Onyx - waterline
Cover Girl Lash Blast Fusion mascara
Eye brushes/tools:
Shu Uemura eyelash curler
MAC 239 - lid
MAC 224 - crease
MAC 217 - crease
MAC 219 - lower lashline
Coastal Scents shader brush - highlight
Sigma E05 - liner
Lips:
Viva Glam Gaga lipstick
NYX La~La lipgloss
Hope you liked it! Please feel free to leave any questions or comments below.