I've had this product for about three weeks, and I must say that I am impressed with it and I enjoy using it. For regular readers of my blog, you probably remember me mentioning something about my dark under-eye circles. Ever since high school, I've been trying to find ways to effectively mask and disguise these circles. I've watched video after video, read tip after tip, and tried product after product. This was actually originally recommended to me by Jacqueline from
A Brilliant Brunette
, so I thought that I would give it a try. I don't know if I've found a solution with which I am completely satisfied, but I can say with certainty that I do enjoy this product--
Bare Escentuals Well Rested
!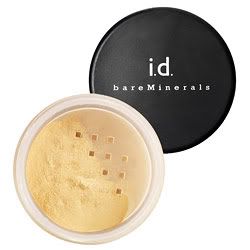 What it is:
The Bare Escentuals Well Rested is described as a brightening shadow base that is meant to reduce the visual effects of a long day or a sleepless night. While it seems as though it is more geared towards using around the eye area, it can also be used for dark shadows in other places--such as around the nose and lips.
My impression:
As I stated earlier, I've been looking for my HG ("holy grail") products to minimize the appearance of my dark circles. I had been doing much research, and after seeing the numerous great reviews that have appeared online for this product and getting a personal recommendation from Jacqueline, I thought that I'd give it a try!
This product came in one of those jars that most mineral makeup seems to come in, complete with sifter. I would have to say that the packaging works pretty well. The sifter releases just enough product into the cap and I don't experience spilling. When I first looked at it, I thought that maybe it was a little too light. You've all seen my pictures--I'm a tan girl!
I actually ended up layering this product over my Smashbox Apricot primer and MAC Select Moisturecover concealer, applying it with a fluffy blending brush similar to the MAC 224 (I actually use one from Coastal Scents with the pink handle). I find that if you apply it with a light hand and with a fluffy brush, it really does brighten up the eye area. I will say that you should be careful not to apply too much of it or too heavily, because it will definitely make your under-eye area look too light--so those of us with darker skin, be warned!
As for using it as an base...I haven't tried it yet. Since my Too Faced Shadow Insurance and Urban Decay Primer potion really seem to be working for me, I don't intend to give it a try.
My recommendation:
I really do enjoy this product and I think that, when used in conjunction with my other products, does a great job of brightening up the dark areas underneath my eye. I feel that it definitely gives me a fresh, new look. Application is fairly simple, but I think it's all about finding the right balance with the product to make sure that the area looks bright, but not too light.
The rundown:
Would I buy it again?: For sure!

Pros:
+ Brightens eye area
+ Looks natural
+ Product is easy to use

Cons:
- Can look too light if not applied with a light hand
I hope you found this review helpful!!!
Disclaimer: I have not been paid to review Bare Escentuals Well Rested. I purchased all of the products reviewed in this blog post and did not receive them for free. I ensure that this is my true and honest opinion.